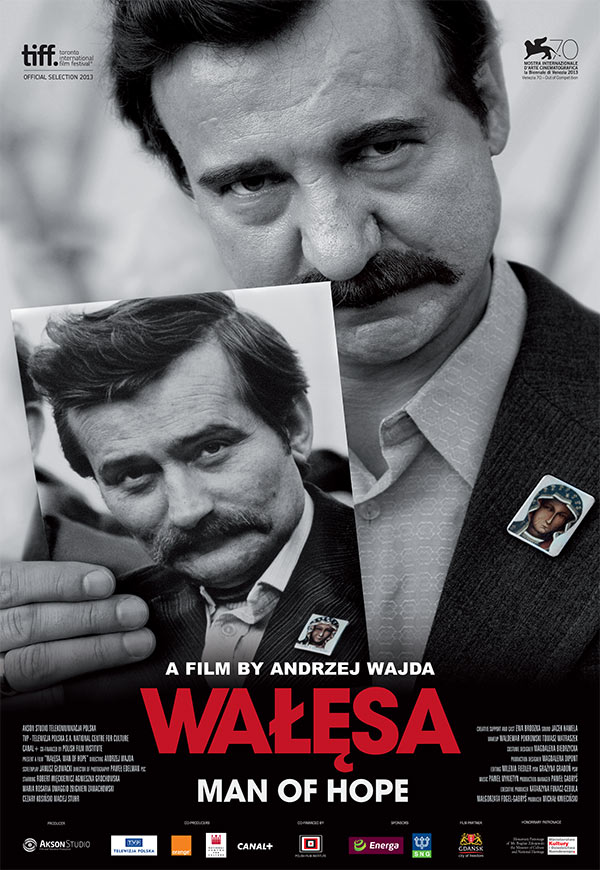 PRESS RELEASE  
WALESA. Man of Hope
WALESA. Man of Hope, the new feature film from master filmmaker Andrzej Wajda will commence its Adelaide release  at the Wallis Piccadilly and Hoyts Salisbury Cinemas, on Thursday June 26 as part of a national screening program.
Well known film distributor Mr Ted Matkowski, speaking from the Polish Film Festival office today said:
"I'm thrilled to be bringing WALESA to Australia right now. General Jaruzelski, the man who declared martial law in an effort to suppress Solidarity is dead, and the release of the film marks the the 25th anniversary of the first free elections in Poland after the second world war.  That was one of the major achievements of the Walesa and his Solidarity movement and yet, history repeats: Ukraine is currently under seige in the way that Poland was then.  It is this kind of bully boy behaviour that compelled Lech Walesa into action and compels a master filmmaker like Andrzej Wajda back into the directing saddle again. There is an inspirational lesson for all of us in that. You can fool some people some of the time, but you can't fool all of the people indefinitely."
WALESA, (pronounced Vawensa) Man of Hope stars Robert Więckiewicz as Lech Walesa  and features a dynamic soundtrack of Polish pop and rock music.
END RELEASE
For further information, including downloadable hi res images, please go to: http://www.walesa.com.au
For viewing copies or to arrange interviews with Mr Matkowski, star Robert Wieckiewicz or director Andrzej Wajda, please phone
Glenys Rowe 0411254255
Puma Media
WALESA. Man of Hope directed by Andrzej Wajda.
Opens June 26, Piccadilly Cinemas, North Adelaide, Hoyts Salisbury. On release nationwide.
Further information: Glenys Rowe, Puma Media 0411 254 255